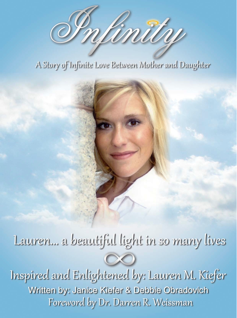 "It is a conscious triumph of our everlasting love over an inconceivable act."
- Lauren M. Kiefer
Within days of the tragic Christmas 2006 death of Lauren Kiefer, a spark of hope was lit, fueled by her mother's grief and another mother's desire to help.
Infinity is a true story filled with profound lessons for us all, taught by Lauren herself. But these aren't reflective lessons gathered from family and friends. This is the story of how Lauren reached out from the other side, navigating an unimaginable path to her mother; to console her and share love's infinite power and the eternity of life.
"I crawled through tunnels to come back to share this knowledge, to share this peace. In incomprehensible ways, I am touching, evolving, moving, sharing, creating...culminating peace. Changing people's lives, opening hearts, letting others see into the light of my life. How impactful one person can be to see the potential in all."
More than a poignant and heartfelt account of a mother's love and loss, Infinity is filled with Lauren's enlightened understanding of the beauty and joy of life after death. Read this book, and you'll understand why eternity no longer has to be one of life's greatest mysteries.
About the Authors
Janice Kiefer and Debbie Obradovich are two mothers who live in DuPage County, Illinois. They were lovingly brought together, encouraged and guided by the eternal spirit and energy of Janice's daughter, Lauren M. Kiefer.
Essence Publishing


Now available for
purchase on Amazon


Also available at
Barnes & Noble
"What a powerhouse! My heart was broken and healed over and over again."
"It moved me tremendously to not only read the book, but to be honored with the great opportunity of writing the foreword"
- Dr. Darren R. Weissman Author, Awakening to the Secret Code of Your Mind and The Power of Infinite Love & Gratitude.